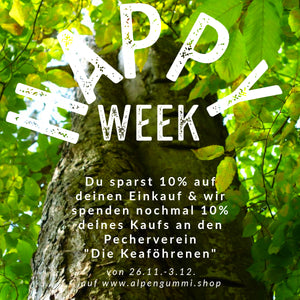 Happy week statt Black Week!
Nur diese Woche schenken wir dir -10% auf deinen Einkauf und spenden nochmal 10% des Erlöses an den Verein zum Erhalt der Schwarzföhre und des Pecherhandwerks in Niederösterreich, die "Keaföhrenen".
Gültig von 26.11.-3.12. ab 20€ Mindestbestellwert.
Alle Produkte
Zimt-Kaugummis zum Sonderpreis
Gute Nachrichten – unsere leckeren Zimt-Kaugummis sind derzeit im Sonderangebot für nur 1,99€ erhältlich, im Vergleich zu den regulären 3€! 😊
Wenn ihr mehr davon wollt, zahlt sich das 10er Pack für 19,90€ aus! Achtung: nur solange der Vorrat reicht. Viel Spaß beim Kauen! 😄
Zum Zimt Kaugummi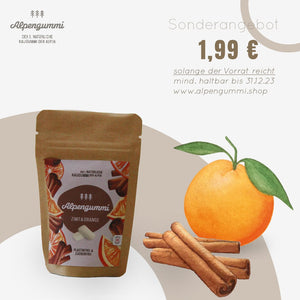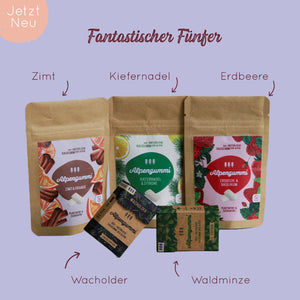 Kennenlernpaket: Fantastischer Fünfer
Kennst du schon all unsere Sorten? Falls nicht, ist unser Kennenlernpaket das perfekte Produkt zum Einsteigen in die Alpengummi-Welt! Das Package enthält ein Bandana (Multifunktionstuch) in der Farbe deiner Wahl + alle 5 Sorten (Minze, Erdbeer, Wacholder, Zimt & Kiefernadel).
Zum Produkt
Wohlfühl-Set
Ein besonderes Set bestehend aus Naturprodukten aus dem Harz der österreichischen Schwarzkiefer. Antiseptisch und wohltuend! Perfekt als Geschenk geeignet ;)
Zum Set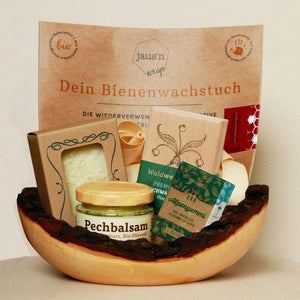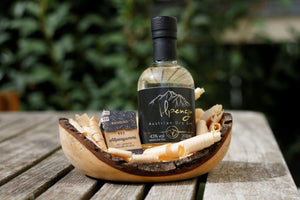 Gin-Set
"Gib dem Leben einen Sinn mit Alpengummi & Gin"
Der Alpengin wird in den Kalkalpen Oberösterreichs in reiner Handarbeit und mit viel Liebe hergestellt - genauso wie unser Alpengummi. Alpengin & Alpengummi repräsentieren somit die geschmackliche Vielfalt der österreichischen Berge und Wälder ;)
Perfekt als Geschenk geeignet!
Zum Gin-Set
Chew nature. Chew Alpengummi!
Instead of the conventional plastic-based gum base, the gum base of our Alpengummi consists entirely of natural ingredients, more precisely of local tree resin and beeswax.
We obtain the tree resin from Lower Austria, thus supporting the traditional craft of the Pecherei (resin harvesting). Our chewing gum is only sweetened with xylitol (birch sugar), which is even good for the teeth. At the moment Alpengummi is available in the flavours forest mint, strawberry & juniper.
Chew nature. Chew Alpengummi!